---
Outcomes of Endovascular Aortic Repair in Connective Tissue Disease Patients
Suzanah Patterson
1
, Salvatore T. Scali
1
, Adam W. Beck
2
, Thomas M. Beaver
1
, Tomas D. Martin
1
, Dean J. Arnaoutakis
1
, George J. Arnaoutakis
1
, Gilbert R. Upchurch, Jr.
1
, Thomas S. Huber
1
, Martin S. Back
1
1University of Florida- Gainesville, Gainesville, FL, 2University of Alabama-Birminghm, Birmingham, AL
INTRODUCTION: Open aortic repair(OAR) is the gold standard for connective tissue disease(CTD) patients, but results in mortality rates of 5-15% and 50-60% long-term survival even when treated at centers of excellence(COE). Durability concerns have led to clinical practice guidelines recommending against endovascular repair(ER) in CTD patients, but these lack Level I evidence and a significant knowledge gap exists. Therefore, the purpose of this study was evaluate outcomes of ER in CTD patients.
METHODS: A retrospective, single COE review was performed on consecutive ERs in CTD patients(2005-19). The primary end-point was aorta-related mortality. Secondary end-points were complications and freedom from secondary aorta-related intervention. Relative risk of selected variables with associated outcomes was determined and Kaplan Meier methods estimated freedom from end-points.
RESULTS: 35 patients underwent ER(median age 50, interquartile range[IQR] 34-61 years) and mean follow-up was 48±46(median 29[IQR 14-76]) months. CTDs included Marfan syndrome(86%;n=30) and Ehlers-Danlos(14%;n=5). A history of ascending and/or arch repair was present in 28(80%) patients. Patients were deemed unfit for definitive OAR due to surgical history(80%) and/or predicted poor outcome with OAR due to comorbidities(20%). Mean aortic diameter was 63±11mm and non-elective presentation occurred in 73%(n=25). Indications were predominantly for residual distal dissection after previous type A repair(acute complicated descending dissection-37%, thoracoabdominal false lumen[FL] aneurysm-46%) or post-surgical pseudoaneurysm(15%). ER types included: TEVAR(43%), simultaneous open repair with antegrade TEVAR(43%), fenestrated/branched ER(12%), and infrarenal EVAR(3%). The proximal landing zone involved Dacron in 60%(n=21). Median LOS was 9[IQR 5,22] days and 30-day mortality was 6%(n=2, both non-elective). Morbidity was 30%(n=10; retrograde dissection-1, reoperation for bleeding-2, respiratory failure-2, renal-1, unplanned 30-day SAI-6). In follow-up, any SAI occurred in 51%(n=18) and 17%(n=6) underwent >1 re-intervention. SAI indications included type 1/3 endoleak(28%;n=5), persistent FL perfusion/aneurysm(28%;n=5), type 2 endoleak(22%;n=4), juxta-aortic aneurysmal degeneration(17%;n=3), and remote aneurysm(6%;n=1). SAI events were non-elective in 56%(10 of 18) and one patient died within 30-days of SAI(6%). OAR involving (sub)total stent-graft explant occurred in 9(26%). One and 2-year freedom from SAI was 53±8%[95%CI 38-74%](Figure 1). Freedom from aorta-related death was 87±6% and 79±8% at one and 3-years, respectively(Figure 2). Risk of aorta-related death was not associated with acuity of presentation, age, indication, ER type, or occurrence of SAI. Previous arch replacement/proximal Dacron LZ did not associate with SAI or aorta-related mortality. Patients with ≥2 OARs before ER had increased risk of aorta-related death(OR 3.1, 95%CI 1.2-4.3;p=.03).
CONCLUSIONS: Results of ER appear comparable to historical OAR literature, with similar subsequent SAI and survival. Notably, ER may serve as a method to stabilize acute aortic syndromes and bridge to and/or reduce complexity of subsequent OAR. Life-long surveillance is required due to high SAI rates and history of multiple prior OARs appears to predict poor long-term outcomes.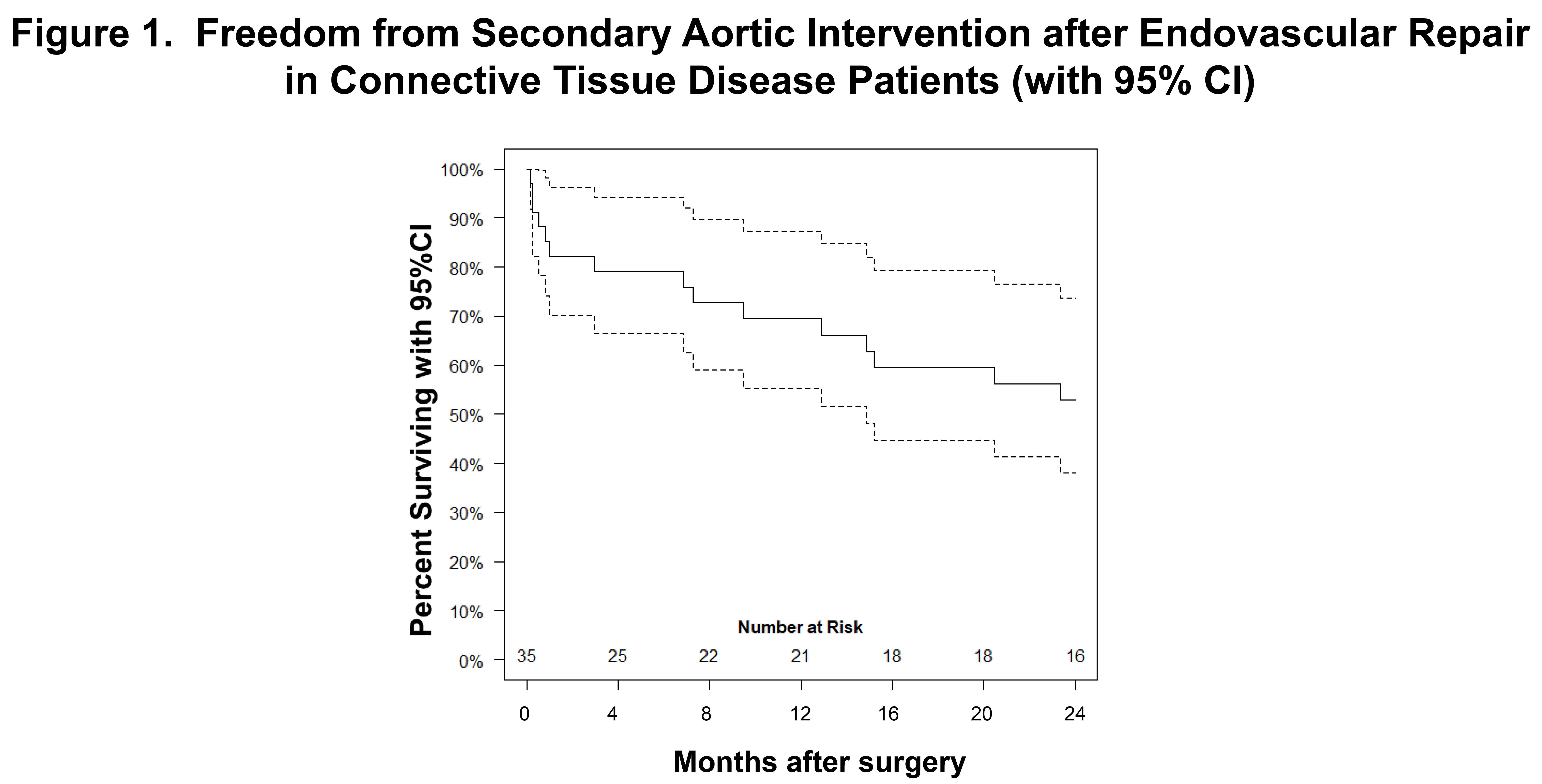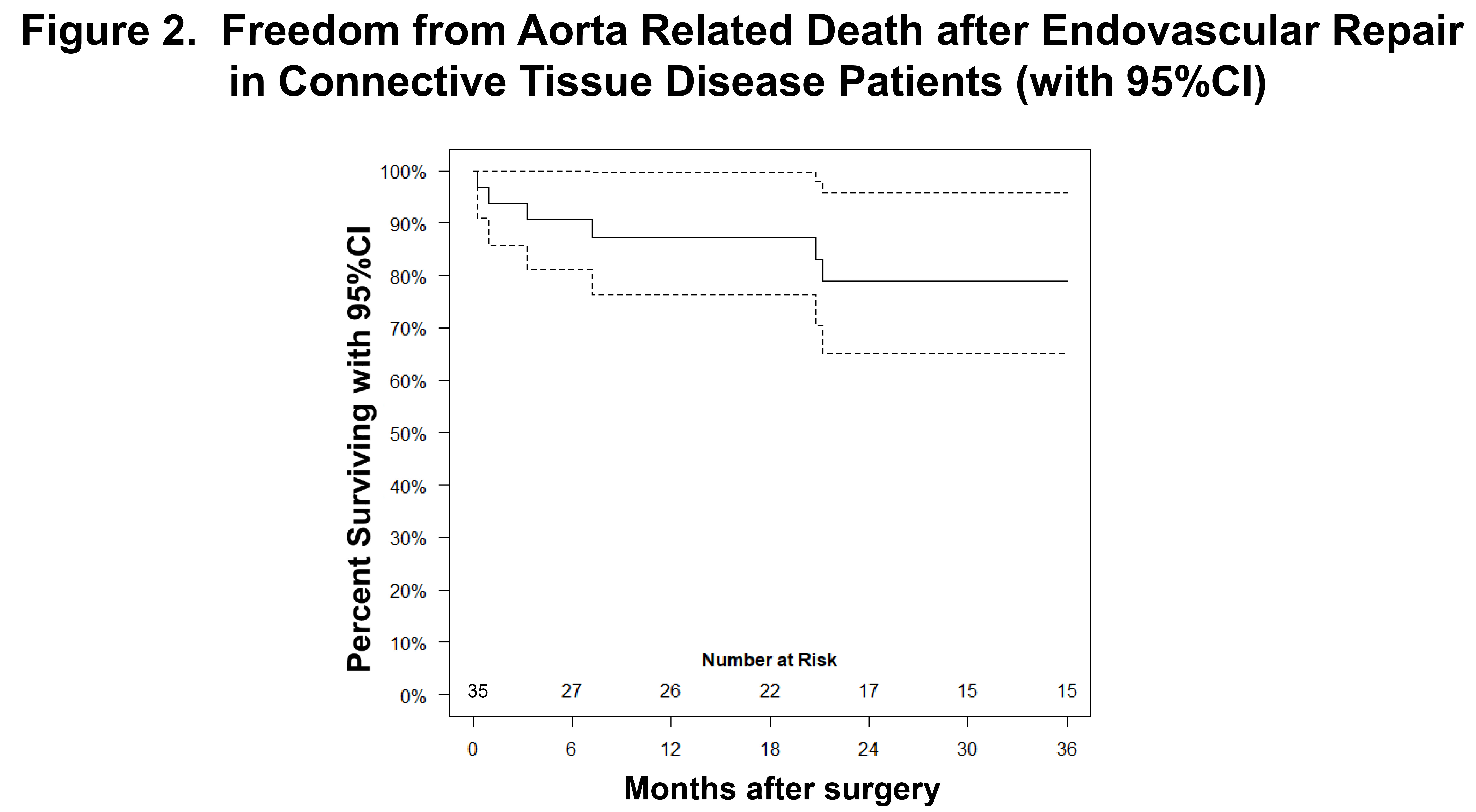 ---
Back to 2021 Abstracts