Back to 2017 Annual Meeting Program
---
Implementation of a Bundled Protocol Significantly Reduces Risk of Spinal Cord Ischemia after Branched/Fenestrated Endovascular Aortic Repair
Salvatore T. Scali1, Moses Kim1, Kristina A. Giles1, Brittney Miller1, Robert J. Feezor1, Javairiah Fatima1, Scott A. Berceli1, Thomas S. Huber1, Adam W. Beck2
1University of Florida- Gainesville, Gainesville, FL;2University of Alabama-Birmingham, Birmingham, AL
INTRODUCTION: Spinal cord ischemia (SCI) remains a devastating complication of branched/fenestrated endovascular aortic repair (B/FEVAR) of thoracoabdominal aortic disease. The focus of this analysis is to describe the impact of prospective application of a bundled clinical care protocol designed to reduce SCI risk after B/FEVAR in this patient population.
METHODS: A bundled SCI prevention protocol including cerebrospinal fluid (CSF) drainage, blood pressure parameters, transfusion goals, and pharmacologic adjuncts (steroids, narcan) was initiated May 2015. Prior to that date, portions of the protocol were utilized in an informal fashion in patients perceived to be high risk (CSF drainage in particular). B/FEVAR cases completed from January 2012 to May 2016 were reviewed and outcomes pre-(n=223) and post-SCI bundle (n=70) were compared. High-risk patients for SCI were defined as those undergoing B/FEVAR for extent I-III thoracoabdominal aneurysm (TAAA). Survival was estimated using Kaplan-Meier life table analysis.
RESULTS: Demographics, comorbidities, indications, and operative complexity were similar between groups, however post-protocol patients were more likely to be older, to have thoracoabdominal aneurysm, and to require a greater number of visceral fenestrations (Table). Post-protocol pre-emptive spinal drain use led to higher drain use in high risk patients (100% vs 87%; p = .04) but significantly lower use in low risk patients (suprarenal aneurysm/Extent IV TAAA: 4% post-protocol vs 21% pre-protocol; p=.03). Rates of any SCI before and after the bundled protocol were 13% (n=29 of 223) and 3% (n=2 of 70; p=.007), respectively. When comparing high-risk patients, protocol use resulted in an even more significant reduction in SCI rate (19%[28 of 144] vs. 4%[2 of 49]; p=.004). Postoperative morbidity (41% vs. 33%; p=.2) and 30-day mortality (5% vs. 1%; p=.3) was not different between groups. However, patients treated on protocol had significantly improved 1-year survival(post-protocol 98±2% vs. pre-90±2%, log-rank p=.05) (Figure).
CONCLUSIONS: Implementation of a bundled multi-modal protocol significantly reduced risk of SCI after B/FEVAR, and the greatest SCI risk reduction was observed in the most vulnerable patients. Notably, the protocol significantly impacted pre-emptive spinal drain use in low and high risk patients leading to improved resource utilization and improved overall survival.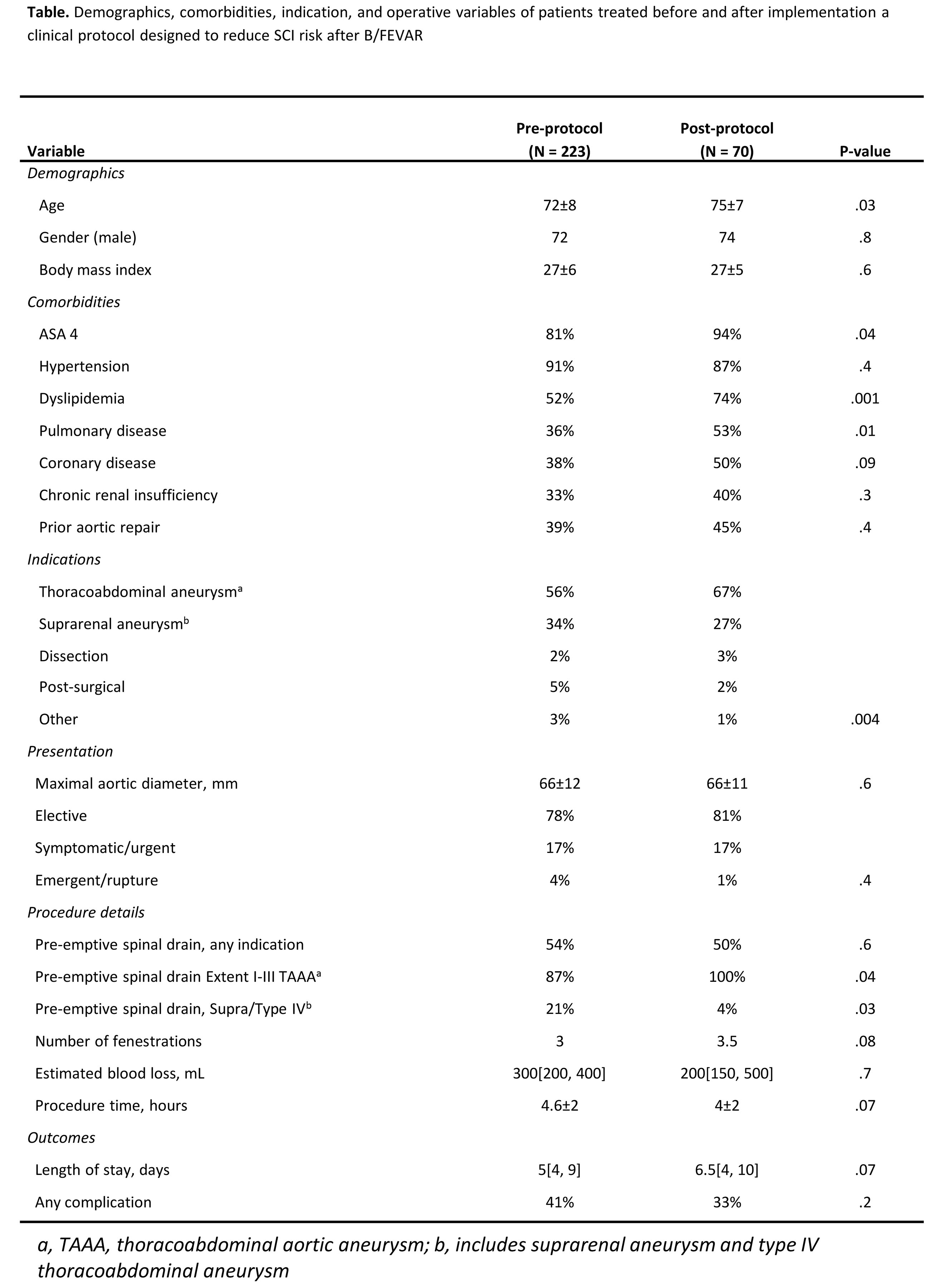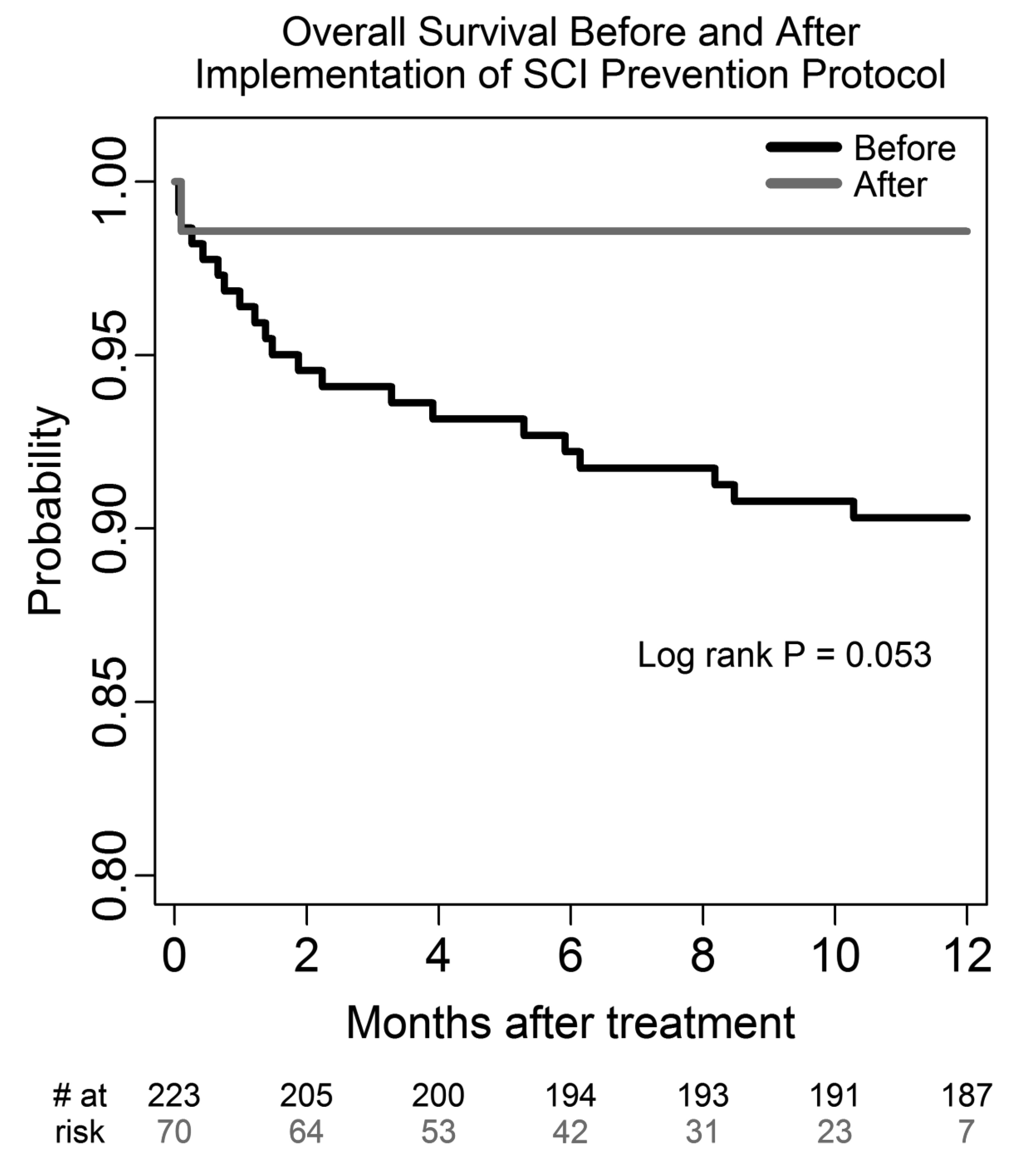 ---
Back to 2017 Annual Meeting Program