Back to 2017 Annual Meeting Program
---
Sarcopenia Predicts Poor Long-Term Survival in Patients Undergoing Endovascular Aortic Aneurysm Repair
Daniel H Newton1, Candice Kim1, Nathaniel Lee1, John Pfeifer2, Michael F Amendola2
1VCU Health System, Richmond, VA;2Hunter Holmes McGuire VAMC, Richmond, VA
Background
In order to maximize the prophylactic benefits of endovascular aneurysm repair (EVAR), patient selection is paramount. In particular, surgeons seek to identify patients likely to suffer perioperative complications as well as those with limited life expectancies. Accurate classification of these patients has been fraught with difficulty. Even when survival models take into account multiple comorbidities they perform only moderately well (Patterson et al., 2008).
Frailty is defined broadly as a loss of physiologic reserve. This concept may help explain the gap between expected mortality, based simply on comorbidities, and observed mortality. Low muscle mass, or sarcopenia has garnered research interest because it can be conveniently estimated with measurement of the psoas muscle area on axial computed tomography (CT) images. For example, Gani and coworkers demonstrated an association between small psoas size and short-term complications, increased cost, and increased length of stay after major abdominal surgery (Gani et al., 2016). Additionally, Lee et al. demonstrated increased short- and long-term mortality in patients with small psoas size undergoing open abdominal aortic aneurysm (AAA) repair (Lee et al., 2011).
This study is the first to examines sarcopenia's effect on the short- and long-term outcomes in patients undergoing EVAR. We hypothesize that patients with sarcopenia undergoing EVAR will not have a substantial increase in short-term morbidity and/or mortality. We base this on the less invasive nature of the procedure compared to open AAA repair. However, we also
hypothesize that the reduced long-term survival seen in sarcopenic patients undergoing open AAA repair will also be observed in those undergoing EVAR. Indeed, sarcopenia may help vascular surgeons predict which patients are at risk of shortened survival, thus rendering prophylactic repair non-beneficial.
Methods
All patients who underwent elective EVAR at a single Veterans Affairs medical center from December 2010 to March 2016 were included in this study, except one patient who did not have an available preoperative CT. Patient characteristics and clinical data such as age, body mass index (BMI), comorbidities, preoperative aneurysm size, preoperative serum albumin, length of stay, postoperative complications, date of last follow up, and date of death were collected retrospectively from the medical record. Delayed discharge was defined by a length of stay greater than 2 days.
CT images were analyzed in Phillips iSite PACS v3.6. Measurements of the left and right psoas muscles were obtained from CT imaging. These measures were taken on the axial CT slice immediately inferior to the fourth lumbar (L4) superior endplate using the standard PACS manual outline tool. Total psoas area (TPA) was calculated by adding the cross-sectional areas of the left and right psoas muscles.
Patients were divided into tertiles based on TPA measurements for statistical analysis. Analysis was performed using SAS in-hospital mortality. Statistical analysis was performed with SAS 9.4 with a significance level of 0.05. The Wilcoxon Rank test was used to compare group medians for continuous patient data, and the Fisher exact test was used to analyze categorical data. Multivariate analysis was performed using forward logistic regression. Kaplan-Meier survival was calculated and survival compared using both the Wilcoxon signed rank test and Log-rank test.
Results
There were 135 patients, all men, with a median age of 70 years (IQR 65—76 years) and median aneurysm size of 5.5 cm (IQR 5.2 - 6.0 cm) at the time of EVAR. Common patient comorbidities included hypertension (78% n=106), coronary artery disease (44% n=60), chronic obstructive pulmonary disease (32% n=46), and current or former smoker status (84% n=130). Median body mass index for the cohort was 27 kg/m2 (IQR 24—31 kg/m2).
Short term adverse outcomes included 33 delayed discharges (25% of patients) and one in-hospital death from stroke. The most common reasons found for delayed discharge included respiratory insufficiency (8.9%, n=12) and urinary retention (4.0%, n=9). On univariate analysis, delayed discharge was associated with increased age (P<.002), longer operative time (P<.002), current or previous smoker (P<.03), and chronic kidney disease (P < .002). Patients with TPA in the lowest tertile, less than 2406 mm2, had a 30% (n=13) incidence of delayed discharge. This was not significantly higher than the 23% (n=33) observed for patients in the middle and highest tertiles (P>.40). On multivariate analysis, only coronary artery disease (OR 2.5 95% CI: 1 - 6.4), chronic kidney disease (OR 7.5 95% CI: 2.3 - 24.6), and age (OR 1.1 95% CI: 1.0 - 1.2) were found to be significant predictors of delayed discharge, while TPA was not identified as predictive.
Kaplan-Meier survival curves for the lowest tertile TPA and the higher two tertiles were calculated (Figure 1). Examination of the survival curves shows divergence after approximately three years following EVAR. Patients with lowest-tertile TPA had 42% five-year survival compared to 93% survival observed for the remaining two-thirds of patients. This difference did not reach statistically significance according to the Wilcoxon signed rank test (P=.19), while it did reach significance according to the Log-rank test (P<.02), suggesting again that the difference is seen in late, not early mortality. Multivariate analysis revealed increased likelihood of mortality at five years for patients in the lowest tertile for TPA (OR 3.9, 95% CI 1.2—12.9), as well as for patients with CKD (OR 5.2, 95% CI 1.5—18.0). Age was not identified as a predictor of mortality in this study population when TPA was included in the multivariate analysis.
Conclusion
Sarcopenia is marker of frailty that is conveniently quantified by measuring total psoas area at L4. In this study of patients undergoing EVAR, low total psoas area was not predictive of increased length of stay nor short-term mortality. We believe this is due to the procedure's small physiologic insult, from which reasonably selected frail patients can recover in the short term. However, low total psoas area was found to be an independent predictor of long-term mortality, with patients in the lowest tertile of TPA demonstrating markedly reduced survival. With further study, including TPA in postoperative survival models may help guide preoperative risk stratification and identify patients unlikely to benefit from prophylactic repair.
Patterson BO, Holt PJE, Hinchliffe R, Loftus IM, and Thompson MM. Predicting Risk in Elective Abdominal Aortic Aneurysm Repair: A Systematic Review of Current Evidence. European Journal of Vascular and Endovascular Surgery. 2008;36(6), 637-645.
Gani F, Buettner S, Margonis GA, Sasaki K, Wagner D, Kim Y, et al. Sarcopenia predicts costs among patients undergoing major abdominal operations. Surgery. In press 2016.05.02
Lee J S-J, He K, Harbaugh CM, Schaubel DE, Sonnenday CJ, Wang SC, et al. Frailty, core muscle size, and mortality in patients undergoing open abdominal aortic aneurysm repair. Journal of Vascular Surgery. 2011;53(4), 912-7.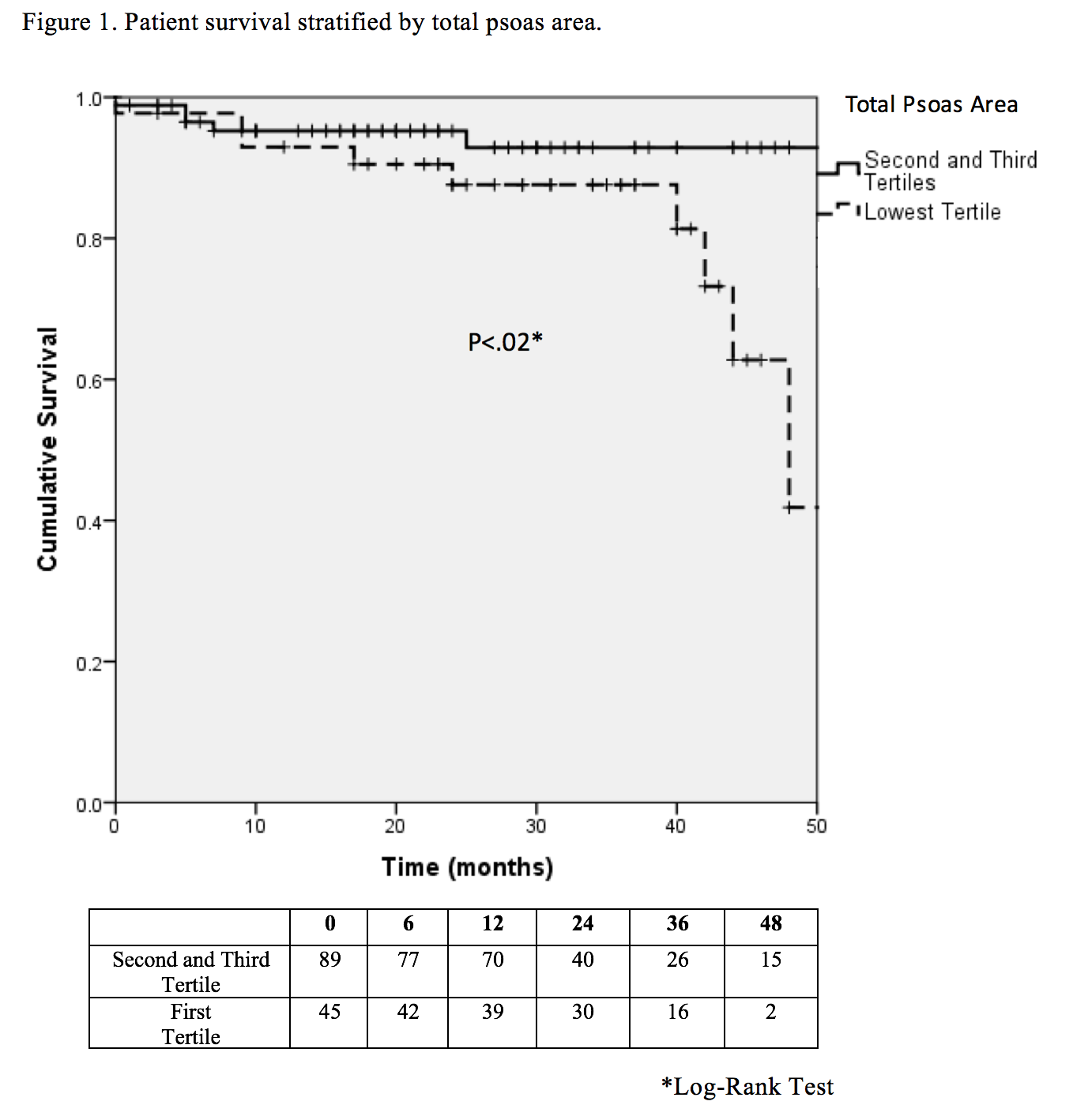 ---
Back to 2017 Annual Meeting Program