Back to 2017 Annual Meeting Program
---
Giant Iliac Artery Aneurysm after Failed Endovascular Therapy
Omar Tahir, Westley M Smith, Walter McCarthy, Amy B Reed
Rush University Medical Center, Chicago, IL
BACKGROUND - One in 5 patients undergoing endovascular aortic aneurysm repair (EVAR) will require a future procedure to manage endoleak. Most of these procedures remain percutaneous, however, some will require open repair. We present an unusual case of recurrent isolated common iliac artery aneurysm endoleak with multiple percutaneous interventions and eventual open operation.
METHODS - A 71-year-old male underwent an aortic bifurcated stent graft, bilateral hypogastric coil embolization with bilateral extensions into the external iliac arteries for a 6.7cm right common iliac aneurysm and a 2.7cm left common iliac aneurysm. His subsequent care and procedures were analyzed and reviewed.
RESULTS - A one month postoperative CT scan demonstrated stable aneurysm sac size without evidence of endoleak. The patient was lost to follow up and presented three years later with a large right lower quadrant pulsatile mass. CT imaging suggested a type II endoleak and a right common iliac aneurysm measuring 9.6cm. He was treated with successful coil embolization of these branches and direct sac puncture with Onyx liquid glue. The patient returned one year later for CT surveillance which demonstrated the aneurysm sac to now measure 13cm. Angiography identified a left circumflex iliac artery branch causing a type II leak which was managed with direct sac puncture and Onyx embolization. He returned to the ER one year since the patient presented to the Emergency Department with abdominal pain, acute on chronic kidney injury, and non contrast imaging demonstrating interval growth of his iliac aneurysm now at 13.5cm and associated right hydroureter. At this point having failed multiple endovascular attempts, with mechanical obstruction of his ureter, and no clear evidence as to current etiology of sac expansion the decision was made for an operative repair. Preoperative ureteral stents were placed to aide in dissection. Sac was incised, and a single communicating branch from the right hypogastric artery was oversewn. The sac was plicated to removed redundancy and closed over the existing stent graft. He was followed up in the office with CT imaging showing a 3.3cm sac without evidence of endoleak.
CONCLUSIONS - Percutaneous management of endoleak following EVAR is a reasonable and viable management option. Consideration should be given to earlier operative management of endoleaks when sac growth persists despite endovascular interventions.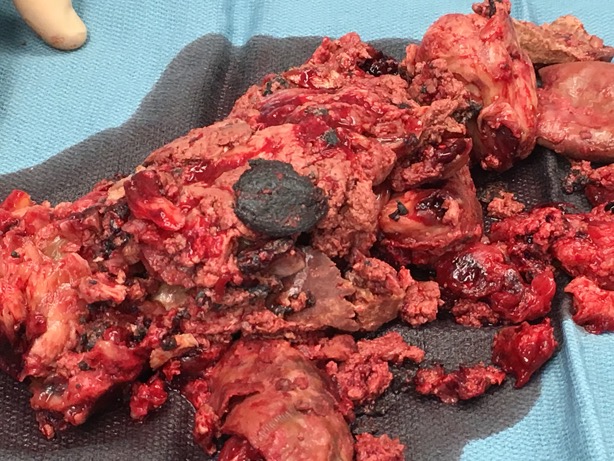 ---
Back to 2017 Annual Meeting Program