Back to 2017 Annual Meeting Program
---
Parallel Stent Graft Repair of Arch Aneurysm
Kate X. Peng, Victor J Davila, Samuel R Money
Mayo Clinic Arizona, Phoenix, AZ
Introduction
Aortic dissection with aortic arch involvement in zones 0 and 1 pose a technical challenge for endovascular repair.
Methods
We propose a 2-stage procedure involving aortic arch debranching followed by parallel stent grafting.
Results
We present a 70-year-old male with aortic dissection involving zone 0 of the aortic arch. He previously had a 4-vessel coronary artery bypass graft and subsequently developed a type A aortic dissection with aortic insufficiency, requiring redo sternotomy, ascending aorta replacement with Hemashield graft, aortic root replacement with porcine Xenograft, and reimplantation of saphenous vein grafts. He had a LIMA to LAD bypass, which was left intact.
The patient presented to us with a symptomatic 6-cm aortic dissection with aneurysmal degeneration involving zone 0 of the arch extending distally through the descending aorta, abdominal aorta, left common and external iliac artery. He was deemed too high risk to undergo an open redo sternotomy. A 2-stage procedure was planned, involving debranching of the aortic arch vessels followed by endovascular stenting.
We first performed a retroesophageal right to left common carotid artery bypass and a left carotid to left axillary artery bypass. An 8-mm ringed polytetrafluoroethylene graft was utilized for both. The proximal left common carotid artery was ligated after ensuring good flow through the bypass grafts.
The next day we proceeded with endovascular repair of the aneurysmal aortic arch using the right subclavian artery by infraclavicular exposure and bilateral femoral percutaneous access. After angiography demonstrated patency of the bypasses, a Cook iliac limb extender was positioned with its distal end in the innominate artery and proximal end in the ascending aorta. A Gore Tag endoprosthesis was then positioned in the aortic arch and both stent grafts were deployed in a parallel stent graft configuration just distal to the implantation site of the coronary artery bypass grafts. A second Gore Tag endoprosthesis was deployed as an extension limb across the aortic arch to the aorta. Patency was maintained in the Cook endoprosthesis with a self-expanding stent. The proximal left subclavian artery was coil embolized from a left brachial artery approach.
In addition to the standard intraoperative hemodynamic monitoring, cerebral oximetry was utilized, which proved vital as a proxy for suboptimal endograft placement. Decreased oxygen saturations prompted quick reevaluation and manipulation of the Cook endoprosthesis as it was found to be kinked. As a result another balloon-expandable stent was deployed to maintain radial force through the proximal portion of the limb as it paralleled the Gore Tag endoprosthesis.
Completion angiography showed patency and flow through the stents, bypasses, and no evidence of endoleak.
The patient was discharged on hospital day 4. CT Angiography at 7 weeks no longer demonstrates dissection. There is no endoleak. The patient is convalescing well.
Conclusions
Endovascular approach following aortic arch debranching for complicated aortic dissection involving zone 0 and 1 of the aortic arch is feasible and safe.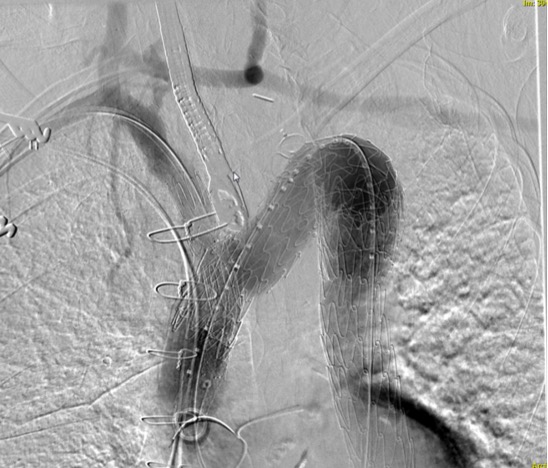 ---
Back to 2017 Annual Meeting Program