Back to 2017 Annual Meeting Posters
---
Increasing Use of Endovascular Therapy in Pediatric Vascular Trauma
Bernardino C Branco, Bindi Naik-Mathuria, Miguel Montero-Baker, Ramyar Gilani, Charles West, Joseph L Mills, Sr., Jayer Chung
Baylor College of Medicine, Houston, TX
Background: Endovascular therapy is increasingly utilized for critically injured adults. However, little is known regarding the epidemiology and outcomes of endovascular treatment of pediatric vascular injuries (ePVI). We aimed to evaluate recent trends in ePVI, and its association with early survival.
Methods: An 8-year analysis of the National Trauma Databank (2007-2014) was performed to extract all pediatric patients (age ≤16 years) with vascular injuries. Demographics, vitals, injury severity score (ISS), interventions and outcomes (in-hospital mortality and length of stay) were obtained. Cochrane-Armitage was used to quantify trends. Logistic regression analysis was used to quantify the association between endovascular therapy and survival.
Results: Among 2,504,213 patients, there were 35,771 (1.4%) patients with vascular injuries. 3,637 patients were aged < 16 years, (10.1% of patients with a vascular injury). Of these, 2,179 patients (72.2% male; mean age 10.6 + 4.8 years) underwent 2,518 therapeutic vascular procedures (263 [10.4%] endovascular; 2,255 [89.6%] open). ePVI occurred in 219 (16.2%) of blunt injuries, 28 (3.4%) of penetrating injuries (p <0.001) and 16 injuries of unknown mechanism. The percentage of ePVI increased (from 7.8% in 2007 to 12.9% in 2014, p=0.04; Figure 1), with a corresponding increase in ePVI with ISS (p < 0.001) or age (p < 0.001). Concomitantly, the proportion of in-hospital deaths after a vascular procedure decreased (from 6.5% in 2007 to 2.3% in 2014; p=0.01). The most common therapeutic endovascular procedures performed were unspecified aneurysm repair (187, 71%), insertion of a stent (26, 9.8%) and thoracic aortic endograft placement (16, 6.1%). There were 331 decedents (9.1% of PVI), 142 of whom were dead upon arrival. Decedents had a statistically significantly higher ISS (p < 0.001), and were more likely to have sustained penetrating injury (39.9% versus 31.1%; p = 0.04). When comparing patients who underwent endovascular versus open procedures, there was no statistically significant difference with regards to in-hospital mortality (1.2% vs. 1.8%, p=0.73). A stepwise multivariable logistic regression model identified lack of signs of life on arrival (OR 10.6 [95% CI: 7.3-13.7]; p<0.001), GCS≤8 (OR 1.7 [95% CI: 1.1-2.3]; p<0.001), ISS≥16 (OR 4.0 [95% CI: 3.0-5.2]; p<0.001), positive ethanol/drug screen on admission (OR 2.3 [95% CI: 1.1-5.2]; p=0.04) and SBP<90 mm Hg (OR 4.3 [95% CI: 3.2-5.9]; p<0.001) as independent risk factors for death. No statistically significant differences existed between the length of stay [8 (4.5,11) versus 7 (3,11) days; p=0.36) or intensive care length of stay [3 (2,8) versus 3 (2.5) days; p=0.06) between endovascular and open therapy.
Conclusions: While uncommon, almost 10% of children with vascular injuries die during their initial admission. As in adults, ePVI is being utilized more frequently despite the lack of robust outcomes data, or devices designed for the pediatric population. Long-term, multicenter, prospective registries are required to determine the appropriate use of endovascular therapy in PVI. There may be an increasing need for further innovation to develop pediatric-specific interventions.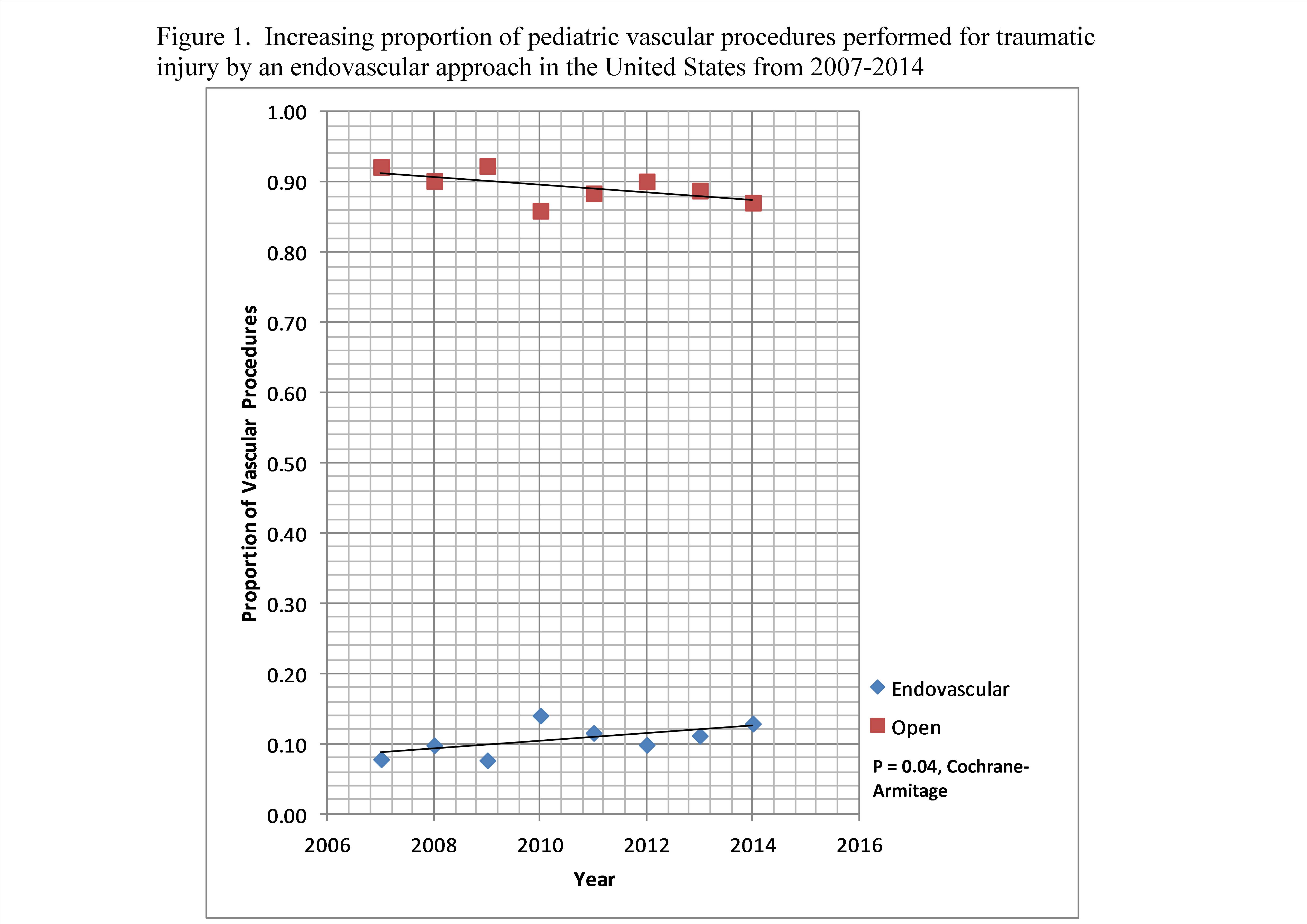 ---
Back to 2017 Annual Meeting Posters