Back to 2017 Annual Meeting Posters
---
Initial Single Center Experience With a New Aspiration Thrombectomy Device For Arterial And Venous Thrombosis
Naveed U Saqib, Wande B Pratt, Gerald R Fortuna, Jr., Maria E Codreanu, Shaikh M Afaq, Rana O Afifi, Anthony L Estrera, Hazim J Safi, Ali Azizzadeh
University of Texas Medical School at Houston, Houston, TX
INTRODUCTION: We report our initial experience with a new vaccum-assisted aspiration thrombectomy device AngioVac (Angiodynamics, Latham, NY) used in combination with a filtered extracorporeal bypass at a single institution.
METHODS: A retrospective review of patients who underwent aspiration thrombectomy using the AngioVac device was performed. Procedures were performed in a fixed imaging operating room under general anesthesia. After systemic anticoagulation, the Angiovac cannula was inserted via open exposure of the access vessel. Intraoperative venogram/ arteriogram were used to assess thrombectomy. Postoperatively, duplex scan and computed tomography were used for evaluation and surveillance.
RESULTS: Seven patients underwent successful thrombectomy of Iliocaval & femoropopliteal (4), Superior vena cava (1) descending thoracic aorta & left subclavian artery (1) & Right atrial (1) occlusive thrombus. Indication for intervention was phlegmasia cerulea dolens (3), pulmonary embolism (1), SVC syndrome (1) stroke and paradoxical embolism (1). The cannulation site was right internal jugular vein (5), right common femoral vein (1) and right common iliac artery (1). We used extracorporeal venovenous bypass in 6 patients and arteriovenous bypass in 1 patient. Venous return was via 17 Fr cannula in left common femoral vein (4) and left internal jugular vein (3). Complete thrombus removal was achieved in 6/7 cases and partial thrombus removal in 1/7 cases (procedure halted for hypothermia <33.2). Average OR time was 3.8 hours. Adjunct rotational thrombectomy device was used in 57% (4/7) cases. Complete resolution of symptoms was present in all patients at the time of discharge. The mean follow-up time was 3.3 months (range 1-5 months). There has been no surgical site infection, bleeding complications or recurrence of thrombosis.
CONCLUSION: The use of a vaccum-assisted aspiration thrombectomy device AngioVac (Angiodynamics, Latham, NY) is a promising alternative to open thrombectomy in patients with arterial and venous thrombi. This new device should be added to the armamentarium of vascular surgeons.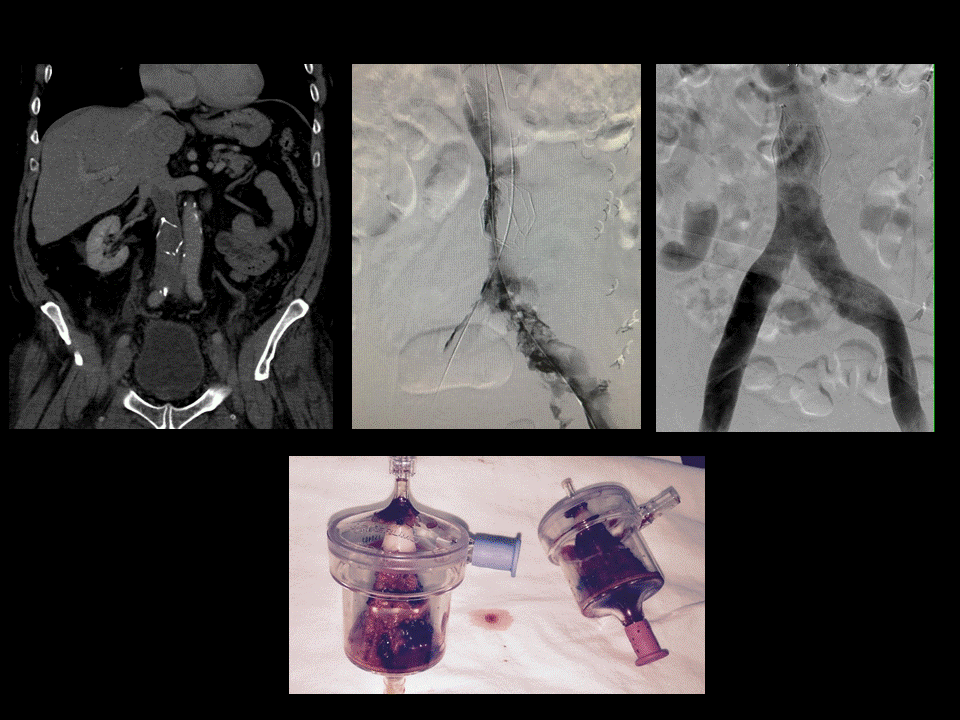 ---
Back to 2017 Annual Meeting Posters